Throughout the last couple of weeks, a lot of work has been going on behind-the-scenes in regards to our refugee sponsorship. We have been busy educating ourselves, building partnerships with other churches, and developing a strategy that we believe will give our sponsored family the support they need to settle and thrive in Nanaimo.
During this time we have also been wrestling through the difficult question: whom are we going to sponsor. This process was gut wrenching. We received 36 pages of refugee cases, there are four cases per page, and each case ranges from individuals to families of 7 people. Reconciling our knowledge that every individual and family represented on the list is beyond desperate with the realization that we can't sponsor everyone was almost immobilizing. Where do we start? How can we say "no" to all but one of the families on the list?
Fortunately for us we received two insights from our partners at MCC (Mennonite Central Committee) that helped us arrive at our decision. First they pointed out that by far the country of Eritrea had the most cases on the roster. Eritrea is an African country located between Sudan and Ethiopia. The country has one of the worst human rights records in the world. In June 2015 the UN Human Rights Council published a 500-page document that outlines the heinous activities of the regime in power. Perhaps the most notorious aspect of the regime is its mandatory military service for men and women age 18-40. Their service time is indefinite and often ends in death. If you want to learn more about the country check out the teaser for the documentary Eritrean Exodus here. If you didn't know about Eritrea, don't feel bad—neither did we at the start of the process. After learning about the situation there, however, we felt compelled to work and help people from that country.
The second insight we received from MCC was to ensure that as sponsors we are well suited to assist our family in the practical ways they require. Our community has an abundance of parents of young children and several of our key team members are moms of young kids. With that in mind, we discerned that we would seek sponsorship of parents of young children.
Equipped with this criteria we were able to come to a decision on a family to sponsor. We have also confirmed our sponsorship with MCC which means we can officially announce our plans. We are sponsoring a 24year old woman, her two young daughters, and her 55 year old mother. The case also presents us with the potential of sponsoring the 24 year-old woman's husband one year from now. The official paperwork should be processed in the next week, meaning that we should be able to announce shortly the timeline for their arrival in Canada.
Financial Goals:
Selecting a family also means that we are able to announce our fundraising goal. For successful sponsorship we need to raise $20,750. We arrived at this number based on MCC's cost breakdown in this chart.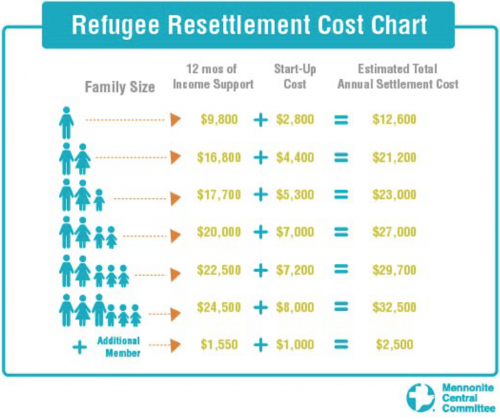 Please note that for the purposes of income assistance the government considers our 55 year old as a separate family from the mother and two daughters. This means that we need to raise income assistance for a family of 3(17,700) plus a family of 1 (9,800), and not a family of 4 (20,000). However, we do intend on housing the three generation family in the same place meaning our start up costs are going to be in line with a family of 4 (7,000). Please also note that the government is currently providing half of the income assistance. Our financial target therefore breaks down like this:
Income Assistance: 17,700 (family of 3)
+ 9,800 (family of 1)
=27,500
Government portion: 13,750
Our Portion: 13,750
Start up Costs: 7,000
Total: 20,750
How to donate:
If you would like to donate there are several different ways you can do so. If you are in Nanaimo, you can come to our building with cash or cheque or you can donate by debit. If you are out of town and would still like to contribute you can mail us a cheque or send an e-transfer to Neighbourhoodchurch@gmail.com. However you are donating please ensure that you specify that this is for our refugee project (write on the memo line on cheques or make a note on your e-transfer). All donations over $20 are eligible for a tax receipt. We will be providing regular updates in order to let you know how close we are to our financial goal. If we exceed our goal, the additional funds will be put towards helping additional refugees.
For major updates on our refugee project please follow along on our blog. For regular updates follow us on twitter @Nhoodchurch or like us on Facebook: https://www.facebook.com/Neighbourhood-Church-524169214381536/timeline/?ref=hl. We are so grateful for your support!