Several weeks ago we were pleased to welcome our sponsored family to Nanaimo! It is a day none of us will soon forget as we finally got to see the faces of a family that we had prayed for and thought about for several months. There was a strong sense of accomplishment and celebration for all those present and that same sense ought to be passed on to all of you who have supported this project.
On behalf of our newcomer family and the refugee sponsorship committee, Thank You! Thank you for donating your expertise in preparing their home, thank you for donating bedding, tables, chairs, and televisions, thank you for your financial contributions, and thank you for your prayers. The success of this project is really owed to all of you and I believe this project has allowed the best side of the faith community and our city to shine through.
The moment the family arrived in Canada, they permanently shed the label refugee. They are now newcomers to Canada and permanent residents. The gratitude of the family is deep. The mother says: I am so happy that my children are safe, that they can eat, and sleep.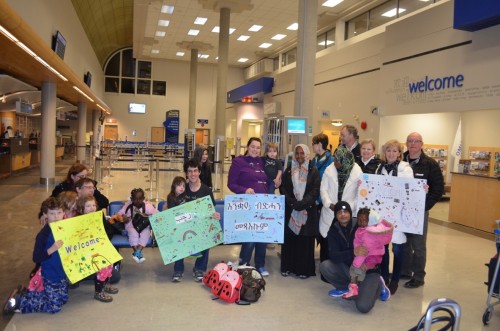 The first few weeks of life in Canada have been very full for the newcomers as well as the volunteers who are helping them resettle. The family has done incredibly well in overcoming an 11-hour time difference—a challenge that is particularly challenging for young children. The family members have also acclimatized themselves well to their home, the city, and of course the weather. The family is immersed in learning English and everyone has been deeply impressed by their determination and intelligence. Most importantly of all, deep friendships have formed that have transcended culture, language, and religion. Our family is incredibly warm and hospitable and have been more than generous in inviting many of the volunteers to eat amazing Eritrean food and to share in their coffee ceremony which features coffee beans that they roast themselves!
What's Next?
The experience to date has surpassed our expectations: from the fundraising and planning through to the arrival and resettlement.  Many involved in this process have affirmed that it is one of the most rewarding things they have ever had the chance to participate in.  For that reason it's not hard to imagine us doing something like this again in the future.